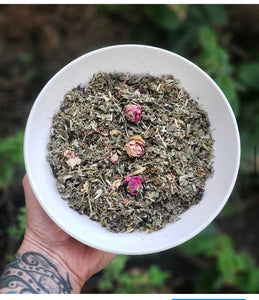 For thick, luscious, healthy hair:
Lemon balm, Horsetail, Oatstraw, Nettle leaf, Raspberry leaf, Hibiscus and Rose buds.
Weight: 3 oz 
1-2 tbls added to 8 oz of hot water in a saucepan. Bring to boil, turn off heat. Let steep with lid on for 1-8 hours. 
This infusion can be poured into a spray bottles and added directly on scalp and hair.
Or
Reheated, add milk, serve warm with honey.