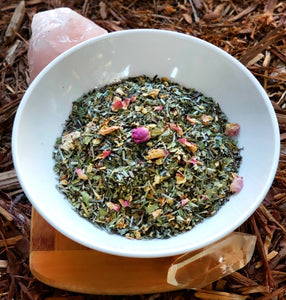 https://youtu.be/ekBWYrjzwss
Sweet Woodruff, Cleavers, Hawthorn flowers and leaf, Marjoram, Blue Cornflowers, Rose, tiny bit of Rosemary. Made as a tea infusion to encourage movement of stagnation of lymphatic fluids and emotions, especially around the chest 💕 This opens the heart to give and receive more love. 
Best as a cold brew: combine plants with water and let it sit overnight. Strain and enjoy warmed up. Add honey and mylk.

Make it like this:
1.5 Tablespoons of tea
1.5 Cups of purified water
Put herbs in a Mason jar with lid
Pour hot water into jar
Put the lid on the jar and let it brew until desired strength is met.