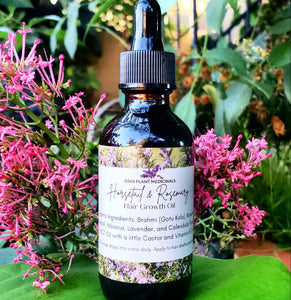 Say goodbye to harsh chemicals and welcome a new hair care journey powered by nature! Embrace the natural haircare movement with Ojas Hair Growth Oil, your go-to solution for achieving the beautiful, long, and healthy hair you've always desired. 
Brahmi: Known for its centuries-old reputation in Ayurveda, Brahmi stimulates hair follicles, promoting hair growth and preventing hair fall. Its natural properties also help in calming the scalp, reducing irritation and dandruff.

Rosemary: A powerhouse herb, Rosemary is rich in antioxidants that help improve blood circulation to the scalp. By encouraging nutrient delivery to the hair follicles, Rosemary supports hair growth, adds volume, and strengthens the strands.

Horsetail: Packed with silica and other essential minerals, Horsetail contributes to increased collagen production in the scalp, improving hair elasticity and overall health. It also reduces brittleness, ensuring your locks look shiny and vibrant.

Hibiscus: Often referred to as the "flower of hair care," Hibiscus is abundant in Vitamin C and amino acids. These nutrients promote hair growth by stimulating the dormant hair follicles, leaving you with thicker, fuller hair.

Lavender: Renowned for its calming aroma, Lavender in this hair growth oil helps reduce stress and tension, which can contribute to hair loss. It also possesses antiseptic properties, promoting a healthy scalp environment.

Calendula flowers: Calendula is gentle yet effective in soothing the scalp and combating dandruff, providing the perfect environment for healthy hair growth.
With these powerful herbal ingredients expertly blended into MCT Oil, Ojas Hair Growth Oil ensures optimal absorption of nutrients by the scalp and hair follicles. The addition of Argan, Castor Oil and Vitamin E Oil further enhances the formula, promoting hair thickness, preventing split ends, and adding a natural luster to your locks.
Directions for use: Apply a small amount of Ojas Hair Growth Oil to your scalp and massage gently in circular motions. Leave it on for at least 30 minutes, or for an intensive treatment, leave it overnight. Wash it off with a natural shampoo. For best results, use 2-3 times a week as part of your #naturalhairjourney.
Enjoy the transformation as your hair becomes more resilient, voluminous, and radiant!