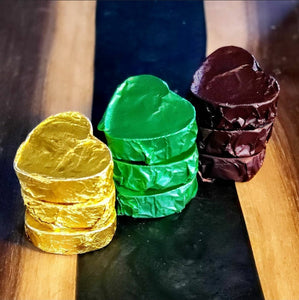 Indulge in the rich, creamy taste of our Neptune blend chocolate, infused with a blend of rejuvenating and nourishing mushrooms of Reishi, Cordyceps, Lionsmane, Chaga, Shitake, and Turkey tail working together to create a truly decadent and nurturing experience for your overall well-being.
Enjoy the blend in our Ojas chai, peanut butter, or plain cacao varieties, and experience the benefits of these medicinal mushrooms in a delicious and satisfying way. Treat yourself to the ultimate in sweet, indulgent self-care with our Neptune blend chocolate.


🤎 Cacao 🔱: Ceremonial grade cacao from Guatemala, vanilla, cacao butter, coconut oil, coconut sugar. Those ingredients are how we make the best chocolate ever!
💛 Peanut Butter 🔱: Cacao + Organic pb.
💚 Chai 🔱: Cacao + Ojas herbal chai