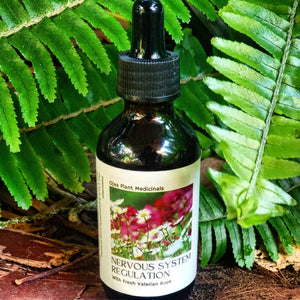 Valerian root, a renowned herb known for its calming properties, soothes the mind and relaxes the body, helping you achieve a sense of tranquility before bed.
Fresh Passion flower complements Valerian root by promoting relaxation and easing nervous tension, while Chamomile enhances the soothing effect, providing a gentle and comforting sensation.
The addition of dried Skullcap helps to alleviate restlessness and support healthy sleep patterns. Its sedative properties work synergistically with the other herbs, encouraging a deep and rejuvenating slumber.
Milky Oats harvested in the milky stage, rich in essential nutrients, nourishes the nervous system, contributing to a sense of overall well-being and peacefulness.
We understand that digestive discomfort can be a common cause of restlessness at night, which is why we've included fennel seeds in this remarkable blend. Fennel seeds have been traditionally used to relieve gas and bloating, helping to ease any discomfort that might disrupt your sleep.
To use, simply shake the bottle well, and take the recommended dosage before bedtime. Allow the natural compounds to work their magic as you drift into a deep, undisturbed sleep, waking up feeling refreshed and revitalized.

 
Ingredients: fresh Valerian root, Passion flower, and Chamomile, dried Skullcap, Milky Oats harvested in milky stage, and fennel seeds in 90 proof Bourbon Whiskey.


Nervous System Regulation