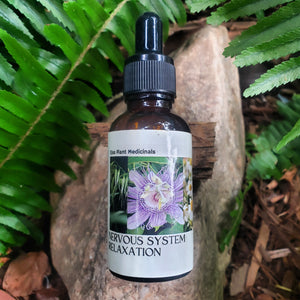 Create calm moments amidst life's chaos. We've carefully selected a harmonious blend of fresh passionflower, fresh chamomile, milky oats, fennel seeds, and skullcap to create a holistic elixir that supports nervous system relaxation and eases anxiety.

🌼 Fresh Passionflower: Known for centuries for its calming properties, passionflower has been used to alleviate nervous tension and restlessness, allowing you to unwind and find tranquility.

🌼 Fresh Chamomile: This gentle herb brings a sense of peace and relaxation, soothing both the mind and body. It's your ticket to serenity in a bottle.

🌼 Milky Oats harvested in milky stage: Packed with essential nutrients, milky oats help nourish your nervous system, reducing stress and promoting emotional balance.

🌼 Fennel Seeds: Fennel seeds add a subtle, earthy sweetness to the blend while assisting in digestion, making it easier for your body to absorb these anxiety-fighting botanicals.

🌼 Skullcap: Promotes relaxation and a sense of well-being, helping you face challenges with a calm and collected mindset.

Our tinctures are meticulously prepared in small batches to ensure maximum potency and effectiveness. Just a few drops under your tongue or in your favorite beverage, and feel the tension melt away. 
1-3 droppersful in a small shot of water, or directly under the tounge anytime of day for relaxation.