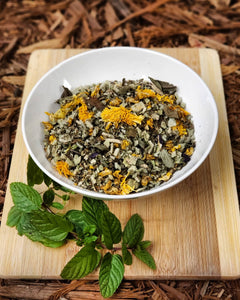 𝙒𝙖𝙣𝙩 𝙍𝙪𝙣𝙣𝙚𝙧𝙨 𝙇𝙪𝙣𝙜𝙨? 𝙏𝙧𝙮 𝙧𝙪𝙣𝙣𝙞𝙣𝙜 𝙤𝙧 𝙩𝙝𝙞𝙨 𝙩𝙚𝙖! This will help keep your lungs clear, breathing easy, releasing sticky feelings of grief and breaking down heavy layers of lung funk.

Mullein leaf and flower, lemon balm, lobelia, spearmint, peppermint and little bit of calendula.  

Weight: 2 oz 
1tbls added to 8 oz of hot water in a Mason jar. Let steep with lid on for 1-8 hours. 
Serve warm with raw honey. Skip the mylk for better breakdown of lung funk.