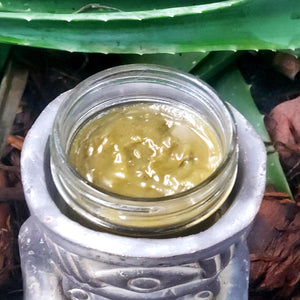 This is great for arthritis, joint pain, sore muscles, achy bones, or if you want to carry the supportive energy of plants in your backpack or purse.
About the medicine:
Tobacco is healing and relieving to swelling, bruising, blunt trauma, aches and pains. Plantain and Comfrey have been widely used for healing all kinds of skin afflictions. Includes: St.John's Wort, Rue flowers and leaves, Calendula flowers and Ginger.
This ointment gives a slightly analgesic feeling (from tobacco and ginger) which is part of noticeable pain relief.
The leaves went through maceration in organic sesame seed oil, coconut oil strained, and blended with pure beeswax.